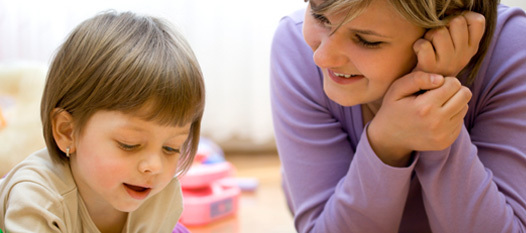 Education Station
Make Your Own Toys for Babies and Toddlers!
You are a baby's first teacher! Dr. Jean Piaget, upon whose theories many of the foundations of Early Childhood education have been built, said: "young children are explorers and it is the job of the adults around them to provide the experiences and materials to stimulate their development."
Parents and caregivers promote education from the beginning, using everyday life experiences to expand the child's mind as well as the body. Toys are stimuli in the world of learning.
When a young child plays, he learns. Unfortunately in a world of inflation, it is difficult for parents and caregivers to provide every toy available on today's market.
Think homemade! The use of bright colors, soft textures and tinkling sounds have made these play things appealing to little ones.
Below are suggestions for homemade toys (many are traditional). Most are made using household discards along with a few items that can be found in dollar stores. Please make sure you use only materials that are safe for baby/toddler play and no matter what toys you give your child to play with—supervision is always a priority.
Interlocking Bag Books:
1. Sew together (by hand or machine) several zipper top closing plastic bags along the bottom edge.
2. Cut cardboard to fit inside each bag.
3. Glue magazine pictures or real life photos on the cardboard. Then slip each page into the plastic sleeve.
4. Change these pictures often for variety.
5. Easy to clean with a damp sponge.
6. Sit with the baby and together turn the pages. Talk to baby as you look at the pictures. It helps to develop important language skills.
Sound Can:
1. Save plastic milk jug lids.
2. Cut an X into the plastic lid of a coffee can.
3. The baby/toddler can push the plastic pieces through the X into the can. The "clink" sound excites the child.
4. When finished, remove the lid, empty the can—it's time to start again!
5. Decorate as desired. I spray painted the cans with bright colors and attached whimsical stickers. Another variation would be to use colorful adhesive contact paper.
Building Blocks:
1. Gather milk cartons in a variety of sizes; half gallon, quart and pints.
2. Wash clean and stuff with newspaper.
3. Tape the open ends down square and proceed to cover each block with adhesive contact paper.
4. You now have lightweight, washable surfaced blocks. A great toy for little ones to build with and no more pinched fingers or bruises.
Clothespin Game:
1. Paint wooden clothespins (not the spring-action type) to coordinate with the stripe tape of the cans in the above toy. These clothespins can be found in craft stores. I used spray paint to color mine. Make sure the paint is non-toxic.
2. The young baby can enjoy dropping the clothespins into a can.
3. The older toddler can play two games: drop the pins into the correct colored can or line the clothespins hanging on the rim (which promotes good find-motor skills).
Books About Homemade Toy Making:
Making Toys for Infants & Toddlers by Linda G. Miller and Mary Jo Gibbs (Gryphon House)
Partners in Play: Creative Homemade Toys for Toddlers by Rita Anderson and Linda Neumann (Henry Holt & Co.)
Learn and Play the Recycle Way: Homemade Toys That Teach by Rhoda Redleaf and Audrey S. Robertson (Redleaf Press)