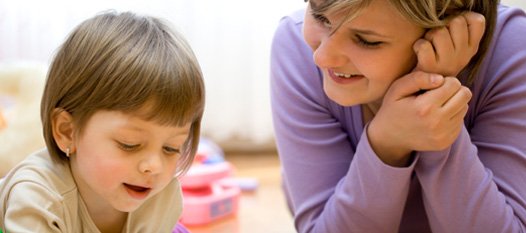 Education Station Archive
Education Station: Encouraging Children to Communicate
Children need to learn to communicate with others – to express their needs, desires and interests; to share ideas, ask questions, describe how they made things, and negotiate solutions to problems.
Study your child care environment to see if you can answer "YES" to the following questions. By answering "YES" you are getting on board toward meeting "best practices" identified in the Early Child Care Environmental Rating Scale.
1. Do you actively encourage children to communicate verbally by asking them questions?
2. Do you lead children in songs or finger-plays during large group time?
3. Do you model language for children by saying and/or labeling things with appropriate words?
4. Do you link language to children's thoughts and actions?
5. Do you draw children into conversation such as asking them to share ideas about a story being read or
something from their own experiences – i.e. their pets, what they had for breakfast, what they are doing
during play time, etc.?
6. Do you listen to what children are saying?
7. Do you offer verbal encouragement?
8. Do you have communication materials such as a toy telephone, puppets, dramatic play props, small
figures and animals available to children in a variety of areas at least one hour per day?
9. Do you actively involve children in large group time where you allow time for them to answer questions,
and wait to listen for their answers and expand their language by asking for further detail?
10. Do you link children with spoken communication and written language by asking them to tell about their
artwork, building, etc. and write a short caption about their work and read it back to them?
Visit ICES' website "Education Station" every month to learn new measures of best practices for child care.
ICES - committed to helping raise the quality of child care in Tuolumne and Mariposa Counties.