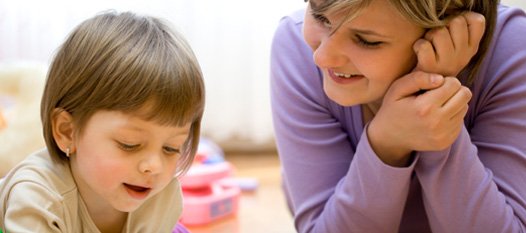 Education Station Archive
Education Station: Daily Health Checks
Daily health checks seek to identify potential concerns about a child's health including recent illness or injury in the child and the family. Health checks may serve to reduce the transmission of infectious diseases in child care settings by identifying children who should be excluded, and enable the caregiver/teachers to plan for necessary care while the child is in care at the facility.
The daily health check should be performed in a relaxed and comfortable manner that respects the family's culture as well as the child's body and feelings. The child care health consultant should train the caregiver/teacher(s) in conducting a health check.
Every day, caregivers/teachers should conduct a health check on each child. The health check should be conducted as soon as possible after the child arrives or whenever you notice a change in the child's behavior or appearance.
Use all your senses to check for illness:
• Listen to what the child and parents tell you about how the child is feeling. Is the child's voice hoarse, is he having trouble breathing, or is he coughing?
• Look at the child from their level. Observe for signs of crankiness, pain, discomfort or being tired. Does the child look pale; have a rash or sores, a runny nose or eyes?
• Feel the child's cheek and neck for warmth, clamminess or bumps as a casual way of greeting.
• Smell the child for unusual odor in their breath, diaper or stool.
The health check should address:
a) Reported or observed illness or injury affecting the child or family members since the last date of attendance;
b) Reported or observed changes in behavior of the child (such as lethargy or irritability) or in the appearance (e.g. sad) of the child from the previous day at home or the previous day's attendance at child care;
c) Skin rashes, impetigo, itching or scratching of the skin, itching or scratching of the scalp, or the presence of one or more live crawling lice, unusual spots, swelling or bruises;
d) A temperature check if the child appears ill (a daily screening temperature check is not recommended);
e) Other signs or symptoms of illness and injury (such as drainage from eyes, vomiting, diarrhea, cuts/lacerations, pain, or feeling ill);
f) Complaints of not feeling well.