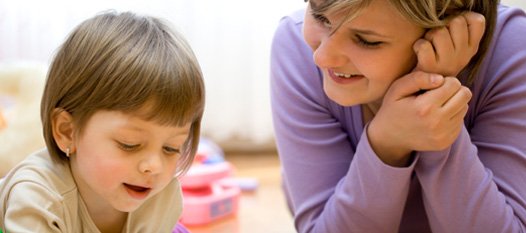 Child Care Options
Choosing care for your child is one of the hardest decisions you will make as a parent. When making choices about child care, it is important to fully understand your options.
Licensed Family Child Care Homes

- Programs which operate in the caregiver's own home and are required to be licensed by the state. Some family child care providers include children as part of their extended family; others run their programs like a preschool which just happens to be in a home setting. There are no educational requirements for obtaining a family child care license. However, providers are required to take a 15 hour child care health and safety training which includes CPR and first aid. Often care is provided for a mixed age group of children:

Small Family Child Care Home

- is licensed to care for 6 to 8 children; different age configurations are allowed depending on the number and ages of children in care.

Large Family Child Care Home

- is licensed to care for 12-14 children; the provider must have a full-time assistant; different age configurations are allowed depending on the number of children in care.

Child Care Centers (Preschools, Nursery Schools, School Age Programs)

- These types of programs operate in non-home facilities. Although generally larger than family child care homes, centers may be large or small and can be operated independently or by a church or other organization or by a state or federal-funded early education program. While they vary greatly, they generally have a curriculum and staff with educational backgrounds in early childhood curriculum. In child care centers, most care is full time, hours are less flexible than in family child care and seldom have mixed age groupings in one center.
Non-Regulated Care
Nannies/Au Pairs and Babysitters

- They are usually hired through "agencies" or through word of mouth, and work in the home of the children. You can either check if this person has passed a background screening or get them screened with the California Department of Justice by contacting Trustline at 1-800-822-8490 or www.trustline.org

One-Family Child Care Providers

- Licensing regulations allow that a child care provider may care for the children from one family in the home of the provider without a license. As soon as a child from a second family is added, the provider must be licensed. Trustline is also available if you choose this type of provider.

Kith and Kin Care

- By far, the most popular form of child care is when friends, family and/or relatives offer to help care for children. Kith and kin care works best when you both share a similar parenting style and are comfortable talking about issues which may arise such as discipline, nutrition and attachment.

Recreation and School Programs

- Short term programs run by Recreation Departments and programs run by school districts are sometimes exempt from Licensing Regulations.
Each of the above types of care can fit into one of the following categories of choices that will help you when choosing quality care:
Providers whose purpose is to prepare children for success in school:
These programs include state-funded early education programs, Head Start and Early Head Star programs. These programs also meet licensing's health and safety standards. They employ trained teachers and use effective, developmentally appropriate teaching strategies that are monitored by their funding agency. Nutrition services for children are also provided. These programs operate both full-day and part-day, serve preschoolers, infants and toddlers, and include after school programs for school-age children directly funded by the state and federal government. These programs are operated in a manner that invests in each child's developmental progress and supports their future success in school.Family's income must meet the program's enrollment criteria.
Providers that comply with health and safety requirements:
These programs are licensed and monitored by the Department of Social Services, Community Care Licensing Division to ensure health and safety requirements. The advantage of meeting these requirements is that children are supervised and hazards in the environment are minimized. Some of these programs may also contain an educational component. All programs accept ICES' Child Care Subsidy. 
Providers that are not subject to either educational or licensing standards:
There are a variety of providers who are considered exempt from licensing including: some relative caregivers, cooperative child care programs, some after school programs, public recreation programs, and others. While license-exempt providers do not have to adhere to licensing regulations, in order to receive payment from state or federal child care subsidy programs if they are not a close relative of the children in their care, the caregivers must register with TrustLine and complete a Health and Safety Self-Verification. License-exempt providers may be utilized because of the flexibility they provide the parent, a family environment with the same values and culture as the parent, and/or the ability to accommodate non-traditional work schedules.
---
Has your provider taken advantage of our free training and support? We have workshops and financial incentives geared specifically for whatever type of caregiver you use.
Call us to talk to a child care information specialist today.
In Tuolumne County: (209) 533-0377
In Mariposa County: (209) 966-4474