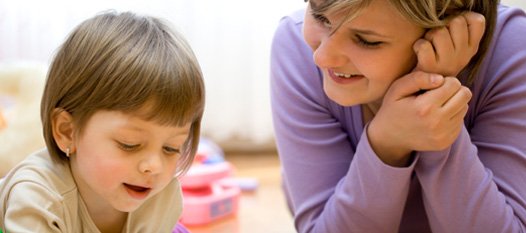 Steps for Selecting Care
Finding the right child care provider takes work. It takes asking lots of questions, from the practical ones about hours and meals to the personal ones about discipline and toilet training. As you talk to providers, the most important question you must ask yourself is "Will my child receive loving and careful attention?" Following these steps will help ensure that you find the right "match" and "fit" for your family and your child:
Visit potential providers or programs preferably with your child and when other children are present. Look to see if this person is warm, caring, attentive and responsive.

Ask questions to find out how the provider feels about things that are important to you.

Open ended and "what if" questions will give you more information than yes or no questions. For example, ask questions like:

- What do you like to do with children while they are in your care?

- What if my child cries all day?

- What will you do if my child misbehaves? What does misbehave mean to you?

- When will you call me about my child?

Establish the beginning of a partnership relationship, let the provider know about your family, your concerns and expectations.

Obtain names and phone numbers of other parents who have children in care. Recommendations from other parents can be part of the basis on which to make your decision.

Evaluate what you observed in your visit and what you heard from other parents. Combine this information with your instincts to make your decision.
How do I know if a Family Child Care Home or Center is quality?
Here are things to look for to determine whether the care being provided in a Family Child Care Home or Center is quality:
Family Child Care Home Provider

- Respects you and your child and is supportive of each child's individuality

- Enjoys his or her work and is committed to the profession

- Has a safe, clean and organized environment that allows children to explore, has comfortable child eating and napping spaces, play materials, has space for active and quiet play both indoors and out

- Demonstrates that h/she understands how children develop and grow and attends some form of training at least annually.

Centers

- The environment is well organized, safe, varied, constantly supervised by adults, relaxed, and has age appropriate play materials

- There is a low adult to child ratio that allows for primary caregivers who spend one on one time with each child daily

- The teaching staff are educated in child development and continue to take training

- All staff on the premises are loving, warm, approachable and patient

Click here for a downloadable Child Care Brochure, which contains helpful information and worksheets to assist you in your search for quality child care.

___________________________________

The public can access information regarding licensed facilities at the Community Care Licensing Division at www.ccld.ca.gov.

To access this information at the above website, click the link OR enter the URL and then:

• Find Licensed Care – is a blue box on right with a detective character holding magnifying class.

• Click on "Search for a Facility" at the bottom of the paragraph

• Searches can be done by either "Search by Facility Number" or by "Search by Facility Group"